OUR CUSTOMERS LOVE US!
HERE'S WHAT THEY'RE SAYING: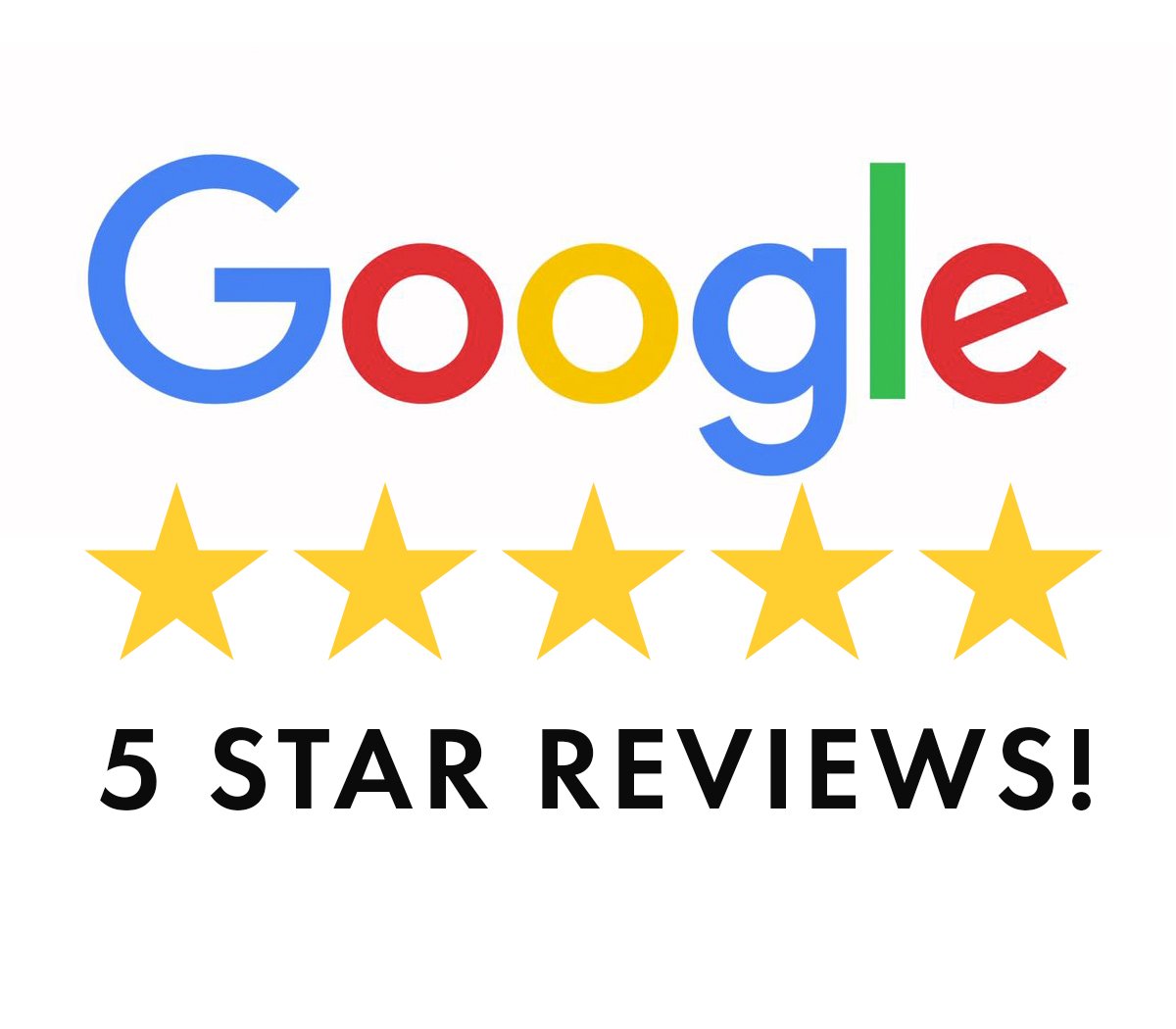 ⭐️⭐️⭐️⭐️⭐️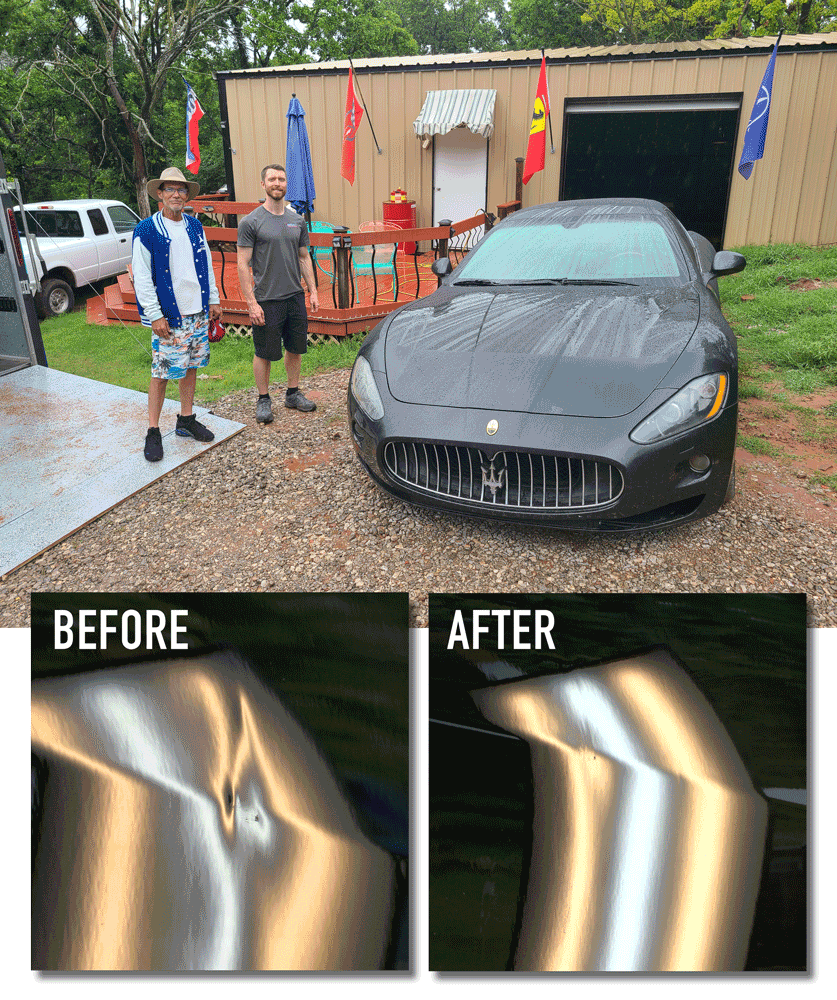 Poor guy got called out to work on my vintage Maserati for damage I was pretty convinced PDR would not be able to remove completely. Being that this Maserati may be the only one I ever have the privilege of owning, you have to know I'm not easy to deal with on it. Suffice it to say, I will be using ASAP exclusively on my AMG collection and any other car I own. Not only was the job top notch, but he did also it in the rain, guy is a true pro. So, you can gauge my knowledge and apply to my response, I have owned collector cars all my life, I have run dealerships and body shops and have been involved in restoring classic cars for 40 years, I do not give this kind of review often because I rarely see this good of work. Great job guys, see you again soon!
⭐️⭐️⭐️⭐️⭐️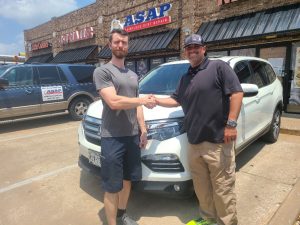 We stumbled upon Brent and ASAP Paintless Dent Repair, and we are so thankful we did! Our SUV was hit by a horrible hailstorm (Austin, Texas), leaving us with over $10,000 worth of repairs needing to be completed. Brent made the process stress free from start to finish. He worked side-by-side with our insurance company, communicated effectively with all parties, had the work finished in less time than the insurance company anticipated for the scope of work, and our car looks brand new! Not only did he do an incredible job on the vehicle itself, but he was very communicative and partnered with us to make sure we were satisfied with the level or work. If you need a PDR shop, look no further than ASAP Paintless Dent Repair. You will not be disappointed.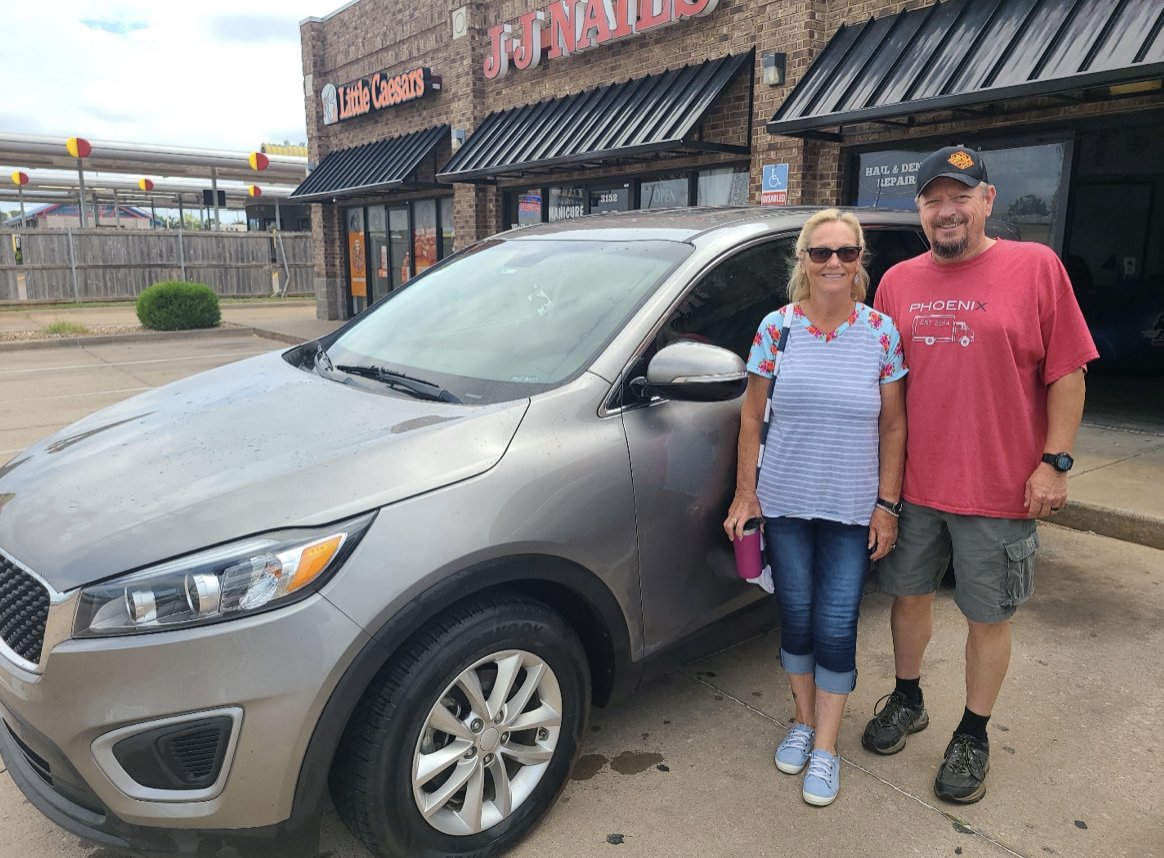 ⭐️⭐️⭐️⭐️⭐️
They were awesome at fixing my car, insurance wanted to cut off my roof but they was able to fix it without taking if off. Plus, they covered a two- week car rental and paid my insurance deductible.
⭐️⭐️⭐️⭐️⭐️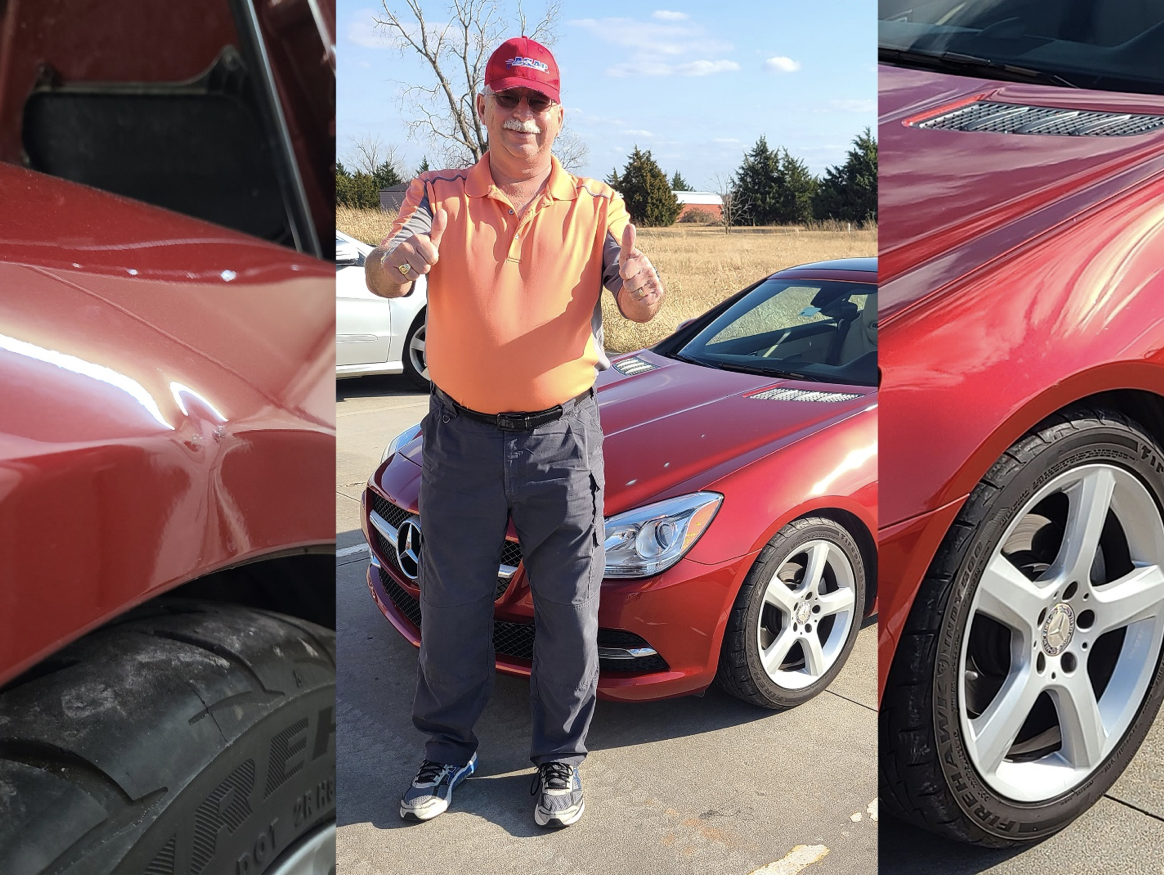 Several months ago Judy went to a box store and parked in angle parking away from the store. She came out and this door ding was there. No question done on purpose as no way to get a ding in that spot in angle parking. Saw this flyer last month. Called them this week. They went by Judy's school within one hour to come up with an estimate. Dropped the car off Friday morning and got back mid afternoon. Very impressed they were able to get the dent out of a crease. They used some of our touch up paint as the ding was down to metal. I highly recommend them as needed.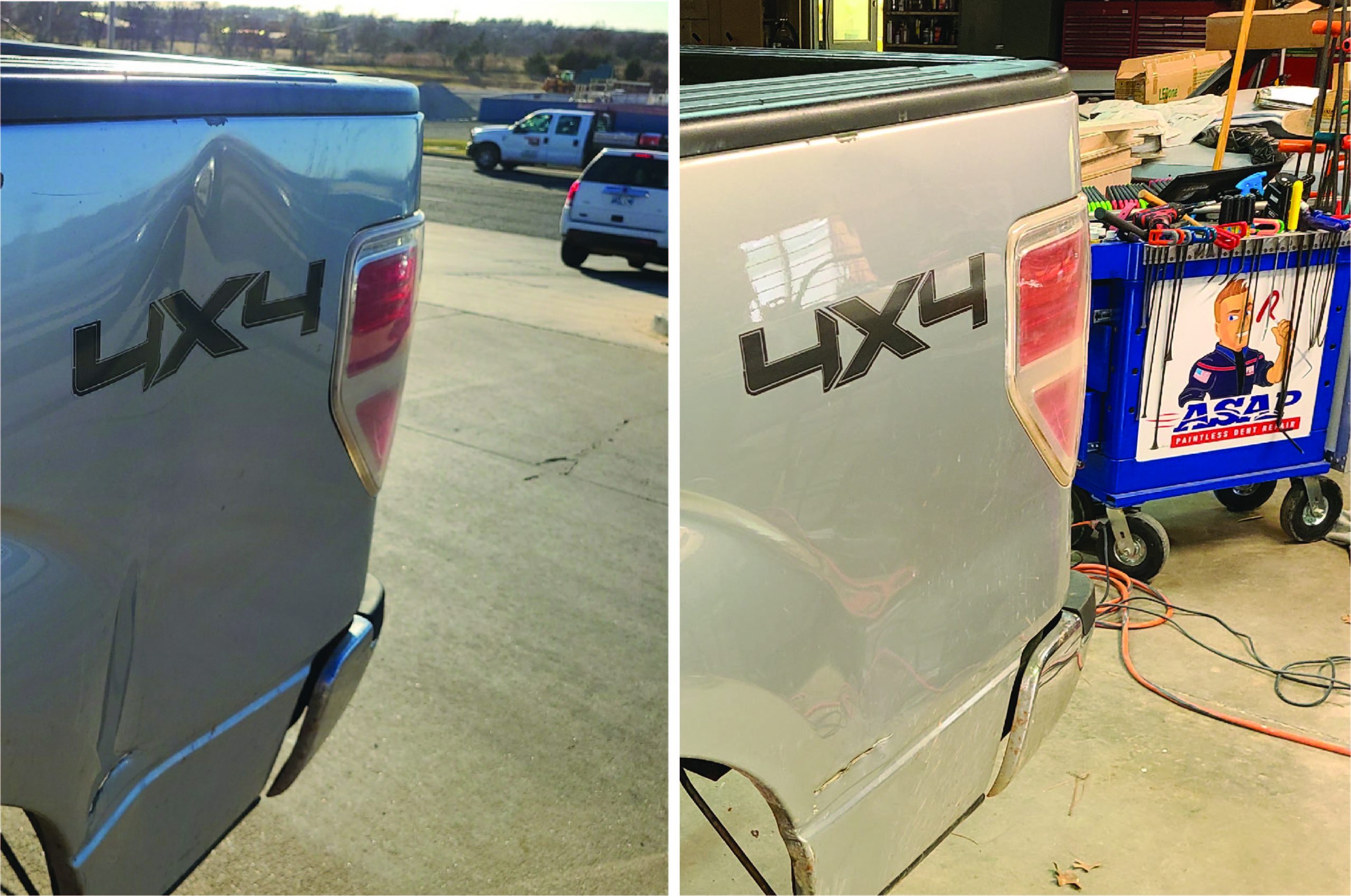 ⭐️⭐️⭐️⭐️⭐️
This place is outstanding. Quality service at an affordable price. I would suggest checking this guy out before going to a body shop. Saved me lots of money. Very impressed with the results on my f150. He was able to get me completed in 1 day what a body shop needed a week to do. This town needed this business. It is for sure a good one.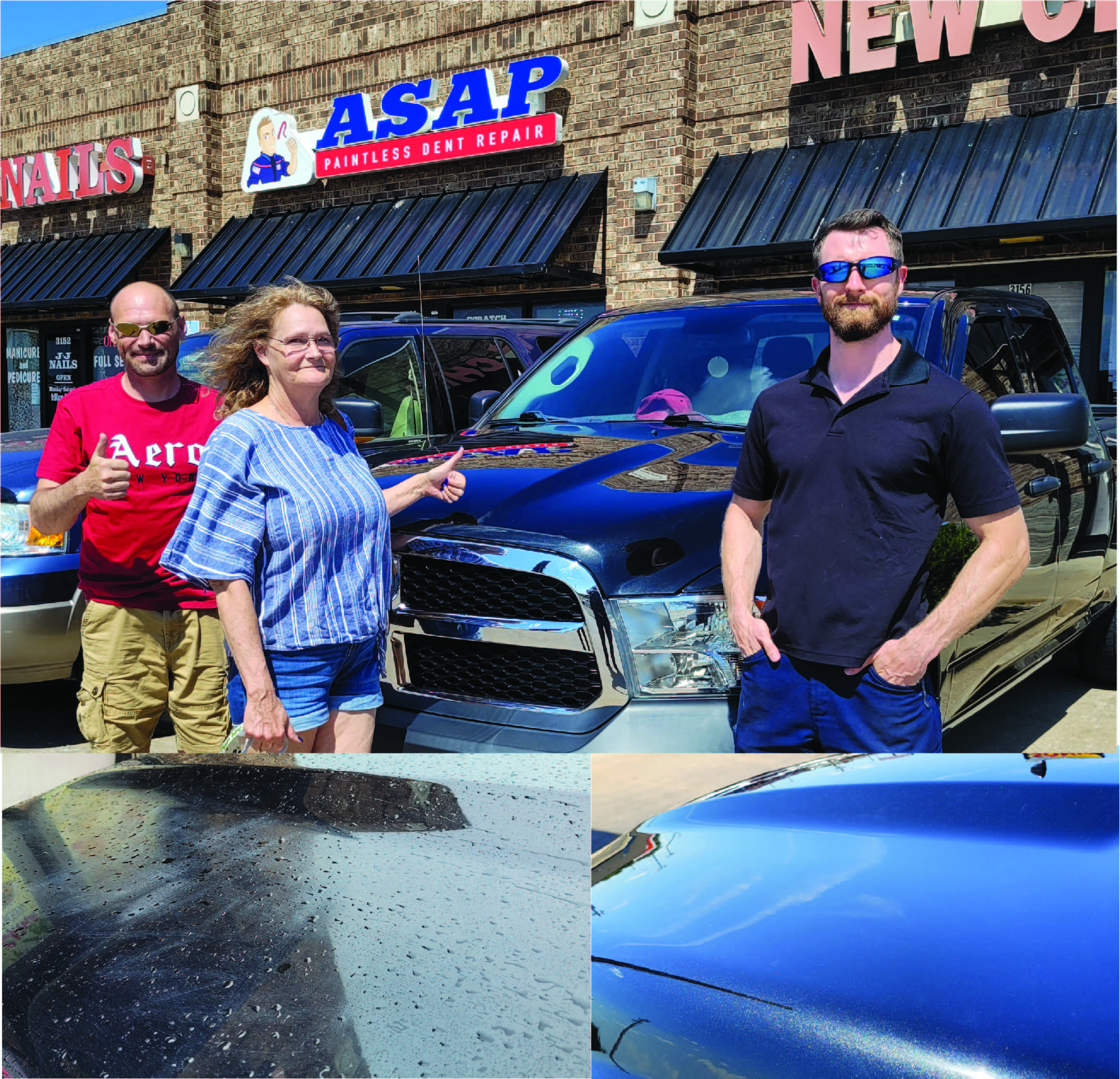 Had scratches and dents from shopping at Walmart and scratch damage on my hood. I stopped in for an estimate (not expecting to have it done). The owners and tech were friendly, professional, and knowledgeable. They have the newest technologies and surprisingly, it does not take very long at all. I dropped it off around 3:30 and they called me the next day around 2:00! The results were insanely awesome! Truck looks like I just drove it off the showroom! Cost was crazy low too! So glad I went ahead and did it. Don't hesitate the results WILL surprise you!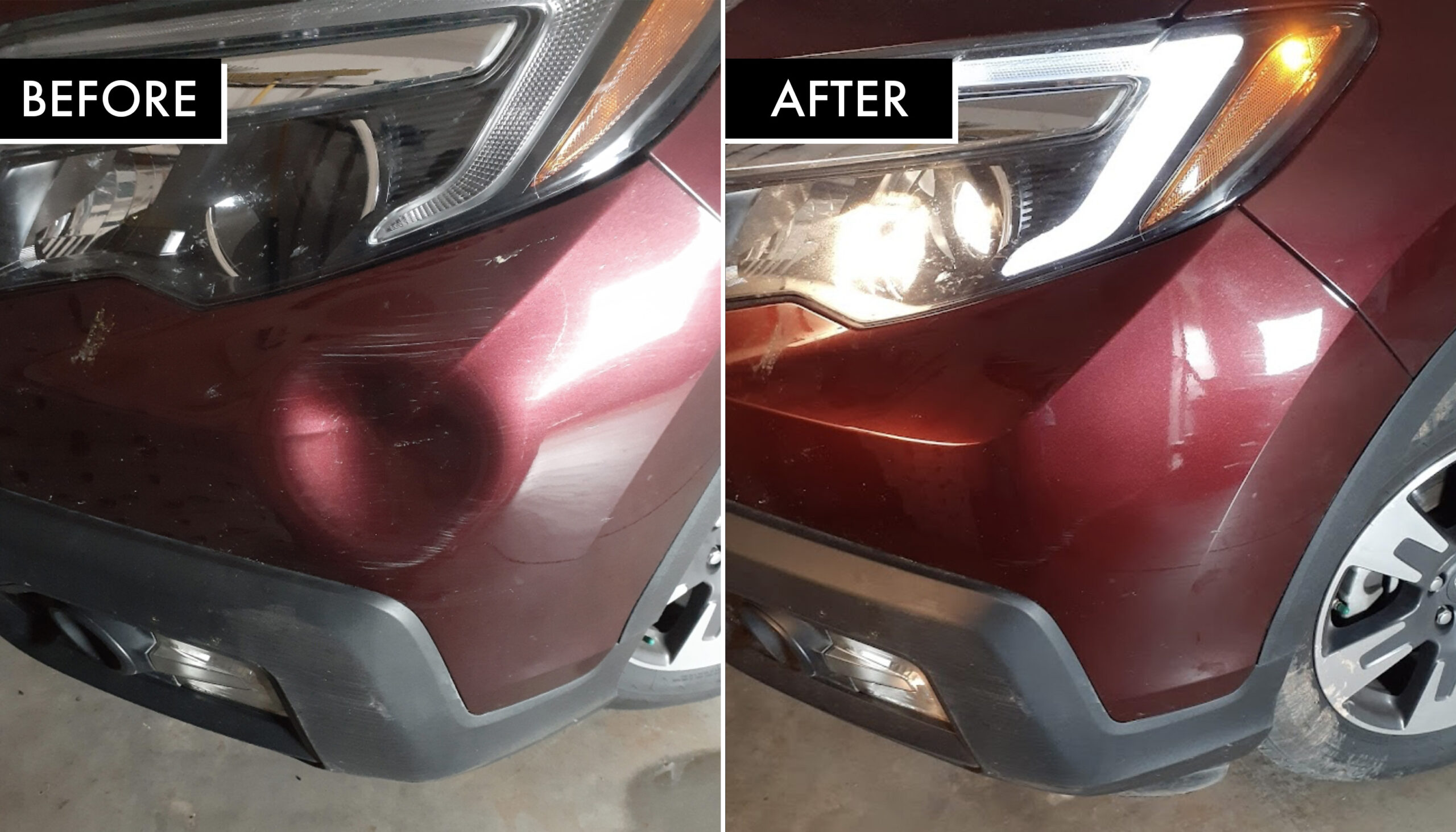 ⭐️⭐️⭐️⭐️⭐️
EXCELLENT work. Very efficient and professional. Definitely recommend.
Carolyn
⭐️⭐️⭐️⭐️⭐️
ASAP Paintless Dent Repair in Harrah Oklahoma best customer service I've ever received from a company. They picked up our deductible, and rental fees for a rental car. They went above and beyond the call of duty I'm telling you. They were very thorough in explaining the process of the repairs. Made me feel very comfortable that I was in good hands.
⭐️⭐️⭐️⭐️⭐️
Best place in town! Amazing customer service and even better quality! If you go you won't regret, it! Easiest car fix of my life!
⭐️⭐️⭐️⭐️⭐️
 Great service! I highly recommend ASAP. My SUV looks brand new ! A deer ran into the side and left 2 dents .Great job and quick turn around. I definitely will use them in the future.
⭐️⭐️⭐️⭐️⭐️
Outstanding. Got me in quick, the dents are gone, and the car looks like brand new at an affordable price. I would highly recommend Brent and ASAP PDR.
⭐️⭐️⭐️⭐️⭐️
Fantastic service. Fast and friendly. Dropped off my car at 8am and the technician Brent said he thought he could restore it to 70% ( it was a crinkled dent about the size of a golf ball on our rear door) and said that if we were not satisfied with the repair he would make good on the fee. Well, at 10 am he called and said repair was complete and when I saw it, it was the best 70% repair I've ever seen. It was at least a 98% repair. I am very pleased and still in shock how great it looks. Highly recommend and cheaper than body shop estimate. 
⭐️⭐️⭐️⭐️⭐️
Great job. Friendly technician. Would use again for future repairs.
⭐️⭐️⭐️⭐️⭐️
These people so good at customer service. My experience was so outstanding I am at a loss for words. And that's very unusual for me. I told the manager that he should hold a seminar on customer service to other business owners. Because they have it down. Brent was amazing personally and professionally. Not one flaw not one! I am blessed to have found this team of people who actually care and listen. Thank you, Anita, Westy, & Brent !!!Would not even consider going anywhere else ever!
⭐️⭐️⭐️⭐️⭐️
Punctual, professional, & very fair pricing! Brent could not have been more accommodating.  Plus, the fact ASAP is a local business makes it even better!
⭐️⭐️⭐️⭐️⭐️
Brent is amazing, Great work and the best paint-less dent repair I've seen and had done on my vehicles.  He will have all my business and I will be referring anyone I know that needs this type of work to him.  Thank you 
⭐️⭐️⭐️⭐️⭐️
Brent did a great job! We had a few dings in our brand new car thanks to our 4yr old and a hammer. I called ASAP and Brent came out that evening. He got each one out and the door looks good as new. We will definitely use them again and highly recommend to everyone. 
⭐️⭐️⭐️⭐️⭐️
 Best Paintless dent repair in the Harrah/Choctaw area. Highly recommend… Brent is the Best! Very friendly and professional people to do business with
⭐️⭐️⭐️⭐️⭐️
I accidentally dented my truck door and found ASAP through a Google search. The ease of making an appointment (for the very next day too-Sunday) along with the great customer service was outstanding. Brent was very punctual and awesome! He did a great job getting out all of the Dings and dents in both of my trucks and made them look good as new. Most definitely recommend using ASAP PDR and will be contacting them for all my future PDR needs.
⭐️⭐️⭐️⭐️⭐️
Brent was able to give me a quote over the phone by texting photos of two dents I had from a tree branch hitting the bottom of my rear doors of my 4×4. One small and one that looked near impossible to straighten. He scheduled me in within 2 days. He kept the truck all day while I was at work. End results are amazing. No signs of paint damage even. Can't tell there was ever damage. Very skilled at his repair work and would recommend him! Thank you!
⭐️⭐️⭐️⭐️⭐️
ASAP Paintless Dent is a jem to have so close to our home. Who knew we could get the best repair, we could get anywhere, in the middle of Harrah Ok.We are so happy that the dent in our new car is just gone. Good price and fast repair.
⭐️⭐️⭐️⭐️⭐️
We had a fairly large dent on the side and Brent did a great job! I would recommend ASAP anytime.
⭐️⭐️⭐️⭐️⭐️
Everything about this experience was fantastic. I had a noticeable indention on the body line and assumed I was stuck with it or it would be really expensive to fix. Brent made it look as good as new again. Completely exceeded my expectations!
⭐️⭐️⭐️⭐️⭐️
Clear communication and excellent customer service. These are professionals that know how to perform repairs correctly without jeopardizing the integrity and safety of your vehicle. We are so blessed to have this company in our community!
⭐️⭐️⭐️⭐️⭐️
Bought a car with some hail damage and a few scratches. Took it to SEVERAL (a lot really) shops for estimates that varied vastly because each shop had different ideas about how much damage was on the car. ASAP was the only shop that took the time to actually look and mark all the dents and scratches. ASAP was the only ones that gave me a written estimate others didn't because I was paying out of pocket and not using insurance. ASAP was the only shop out of them all that I trusted with my car and I'm glad I did! The work that they did was amazing from the dents to the scratches! They were professional courteous and explained a lot of details. They were fast! I took the car in on a Thursday evening and had it back Friday morning. The price was outstanding for the quality of work that was done. Will be recommending to everyone and using them again. The ASAP experience was simply put "Perfect"!