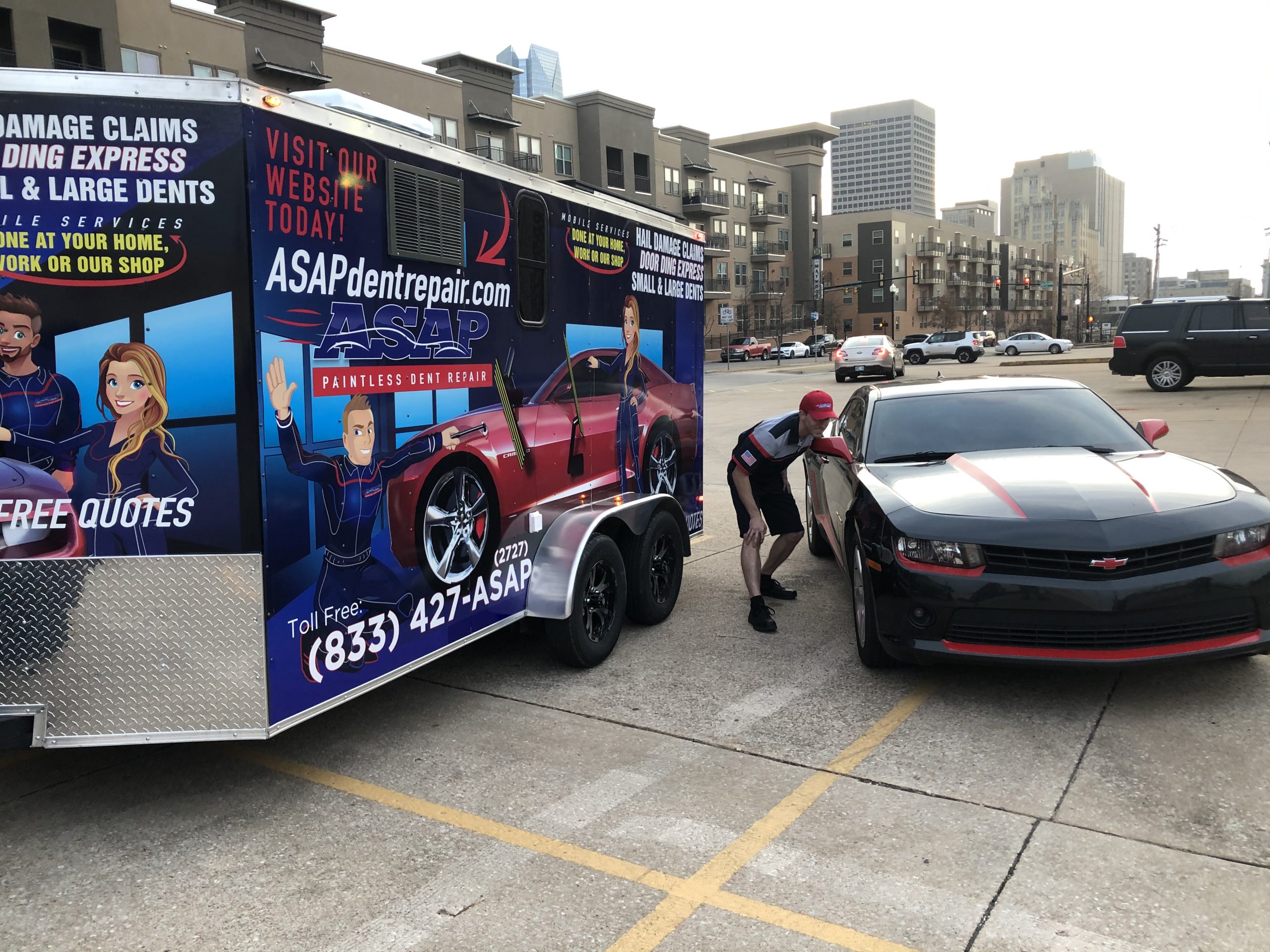 FAST RESPONSE
Central location allows us to respond usually within 4 hours
LOCAL RESPONSE



Servicing customers at their homes, businesses or at your shop
SELF-SUFFICIENT



Fully self sufficient mobile trailers

DETAILS:
ASAP Paintless Dent Repair, LLC is growing and today we are building a Mobile Paintless Dent Repair Service Network where we partner with automotive service organizations including Auto Body Shops, Detailing Shops, Vinyl Wrap shops, Dealerships and others where we provide Rapid Response PDR services to their shop, or their customers, at their homes or work locations.
As part of this growth we began to build our own ASAP Custom Built 7'x14′ Trailers with 6 ft 3″ headroom.
Our Paintless Dent Repair Mobile Trailers have everything built into them for any of our technicians or franchisees to provide Mobile Paintless Dent Repairs including PDR Tools and equipment.  Our Custom Built and Patent Pending Tool Cart along with all tools and equipment are secured using E-Track systems.
Our ASAP trailers were designed and outfitted to allow our technicians to remain on any site for the duration, being hours, days or weeks. The Trailers are equipped with a Ultima Comfort Memory Foam sleeping bed, with overhead reading lights, 2 Vintage Vertical Windows, to allow for the technicians to look out over the work area while onsite, three underneath bed pullout storage drawers for clothing, and other necessary personal items of our technicians.
Our custom trailers have also been built to allow our technicians to prepare their own meals avoiding costly meal expenses while on the road.  The trailers have a laminate counter with a Stainless Steel Single Sink, complete with a Rocket Chrome Hand Pump that is hooked up to two Aqua Rigid Water Containers for potable water thereby eliminately requiring water hookup.  Underneath the counter is large space to hold whatever the technician may need including a printer drawer, eating utensils, and more.
For food and cooking we have included a Chef Mate 1.1 Cu Ft Microwave, a Chef Mate 3.3 Cu Ft. Refrigerator and Freezer, and a two element cooking hot plates. This gives the technicians the ability to make meals themselves comfortably eliminating the need for the technicians to leave the site and the expense of restaurants, when provided services to our customers.
We have also provided for our technicians with a Camco Premium 5.3 Gallon TrailerToilet allowing them to remain in the trailer during the night if needed. For our technicians comfort we have also installed a Toshiba 6000 BTU Air Conditioner with remote control. 
For entertainment, we have designed our trailers with a Full Motion TV Wall Mounted Samsung 32" Smart TV with new technology Amplified HDTV Antenna, along with a wireless keyboard giving the ability to watch television, use the internet, or watch Internet movies and more.   
To allow our trailers to run self sufficiently, we have installed two roof top 250 Watt, 60 cell solar panels, that are connected to an auto switching Pure Sin Inverter that allows all electrical devices in the trailer to operate with or without direct AC Power. Throughout the trailer, we have installed multiple 110 dual outlets. To monitor power, we have installed in plain view for the technician a Charge Controller. Our trailers are able to connect to any type of AC power outlet that may be available onsite.
For our Technicians safety, we have installed in addition to regular trailer locking systems an additional Polar Black Paddle Deadbolt Trailer Entry Door Lock. In the center of the bed we have constructed a pass through door which allows for a technician to go into the back of the trailer to work, or in any emergency exit out the rear of the trailer.